Benefits of Business Process Management
Business process management (BPM) enables organisations to align internal business functions with customer needs, and helps executive determine how to direct, monitor and measure company resources. When properly executed by qualified professionals, business process management has the capacity to reduce costs, enhance efficiency and productivity, and minimise errors and risk – thereby protecting and optimising corporate resources.
Implementing best practices in business process management contributes to sound financial management and provides feedback on how well an organisation is succeeding in meeting its goals. Some of the other key objectives and benefits associated with business process management include the following:
Increase Accountability
One of the primary goals of instituting a business process management system is to provide greater accountability for departmental functions, from tracking and monitoring expenditures to ensuring deliverables are met. By documenting all business processes and working to optimise each one, a company can achieve a system of checks and balances – thereby minimising the potential for fraud, errors or loss and affirming that all employees are aware of their responsibilities.
Improve Reliability
Effective business process management has the capacity to improve the reliability of information and its dissemination in a timely manner. It is critical for senior management to receive accurate information as and when needed in order to make important and time-sensitive business decisions. When business processes are properly recorded and monitored, it is easy to locate the necessary data and quickly produce relevant reports.
Simplify Regulatory Compliance
From complying with labor laws to submitting SEC-mandated financial reports, there are numerous government rules and regulations companies must follow. Comprehensive business process management practices help organisations keep track of their obligations, and ensure that they are in compliance with applicable standards and legislation. By following clearly outlined processes and staying up-to-date on changing laws, companies can avoid the potentially costly repercussions of non-compliance.
Avoid Waste
Because business process management involves assigning and tracking corporate resources, there is generally far less waste than in companies that do not actively monitor those resources. Organisations that follow BPM best practices will find that they can dramatically reduce waste, enhance efficiency and, ultimately, boost profitability. Regular performance reviews can identify possible instances of waste and inefficiency, and continuous process improvements can help to address them.
Promote Safe Working Conditions and Protect Company Resources and Information
Another benefit of business process management is its capacity to enforce safety and security measures. By documenting proper procedures and mandating full compliance with them, organisations can help ensure staff safety and protect company assets – including physical resources and confidential information – from theft, loss or misuse. That's why internal controls and corporate policies play a key role in business process management.
Decreased Costs
At first glance, BPM seems to deliver the same major benefit as traditional enterprise application technology like ERP: increased workforce productivity (as a result of streamlining business operations and automating repetitive tasks). BPM suites, however, go far beyond creating efficiency. Knowledge sharing capabilities and a collaborative portal help improve decision-making. Process performance reports help optimise workflows. Notifications and triggers help reduce errors and eliminate waste, and an intelligent rules engine enforces best practices. Thus, BPM suites not only help organisations increase workforce productivity, but they also improve product quality and reduce corporate risk. The result? Within months of deployment, these improvements deliver substantial cost savings to companies.
Increased Revenue
In addition to decreasing costs, BPM suites also help an organisation raise its overall revenues by increasing product output, accelerating cycle time and improving customer service. Straight-through processing helps accelerate delivery times, while dashboards help prioritise business activities by their influence on sales. Process performance reports help identify bottlenecks and reduce hand-offs. Centralised enterprise knowledge helps speed decision-making and closed-loop customer feedback processes help track performance. Over time, these enhancements result in a faster time-to-market and an improved company image, which ultimately increases sales and revenues.
Improved Agility
While decreased costs and increased revenue are the two most immediate and tangible benefits of business process management, the real value BPM delivers is intangible. In the long run, composite process applications built with BPM suites help organisations become more agile. Intelligent rules ensure that processes adapt automatically to changes in the business environment. Collaborative tools bridge department boundaries while improving and speeding decision-making, and in-flight process modifications accelerate response to change by dynamically re-routing processes in real time. With these capabilities, a company is better equipped to switch gears and respond to its changing business.
Environment – faster than your competitors!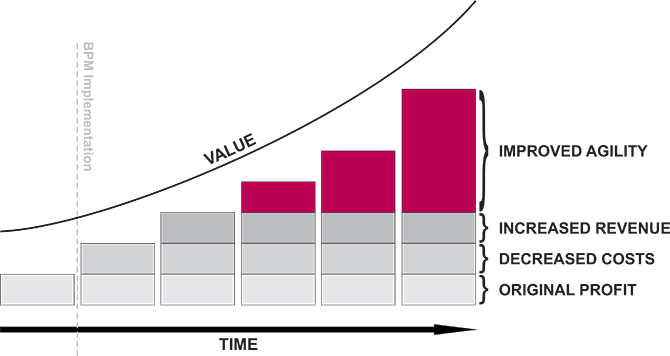 Value of BPM
How BPM Creates Value
BPM not only improves profitability, but it actually helps create competitive advantage for companies. How? By using our BPM suite technology, your organisation can rapidly develop and deploy composite process applications to solve business problems. These applications ultimately enable your company to respond to changing market, customer and regulatory demands – faster than your competitors! Thus, the BPM organisation is not just better positioned to address current business challenges; it's better prepared to take advantage of future business opportunities.
BPM creates value!

'We automate your Business Processes using Kofax Capture Solutions'